Hevto Wetsuits Tops Women X-Female 3mm Neoprene Jacket
Free Shipping & Return!
U.S. DELIVERY ONLY!
Thickness: 3MM
Closure: Front zip (No key pocket, No hood)
Structure: Long sleeves, jacket
Materials: Three Layers Fabrics = Neoprene SBR + Nylon-2 layers
30 Days After-Sales Service Commitment
customers are viewing this product
▶ Owning a wetsuit top will make your beach vacation a lot more Convenient.
   ✦ When you ride a jet ski through the sea wind, Warm-keeping and Windproof are necessary. Besides, Hevto X-Female Women Wetsuit Tops can help you insulate the water droplets beating on the body during riding.
   ✦ When you're tired of playing and want to lie down on the beach chair, the jacket-style wetsuit tops can be Quickly Taken Off, then you can enjoy your sunbathing while resting.
   ✦ For people with larger waistlines, a wetsuit top with wetsuit pants may be more Comfortable to wear. A separate wetsuit top offers better performance in Flexibility and weakens the feeling of contraction. Throw on the wetsuit tops and a pair of shorts, and you'll be ready for any water sport.
  
▶ How are the materials of Hevto X-Female Women Wetsuit Tops?
   ✦ Hevto X-Female Women Wetsuit Tops and all Hevto X series wetsuits use the Same Materials. Both of them use Neoprene SBR as the main materials of the wetsuits, Nylon Fabrics as the surface materials and lining materials, and the thickness is 3MM.
   ✦ They are all made in the Same Process, with three layers of nylon fabrics + neoprene + nylon fabrics, which are bonded and then sewn all panels together by the Flat Lock Stitching method.
   ✦ The same goes for Zippers and Hook and Loop Fasteners. High-quality accessories are the way to go.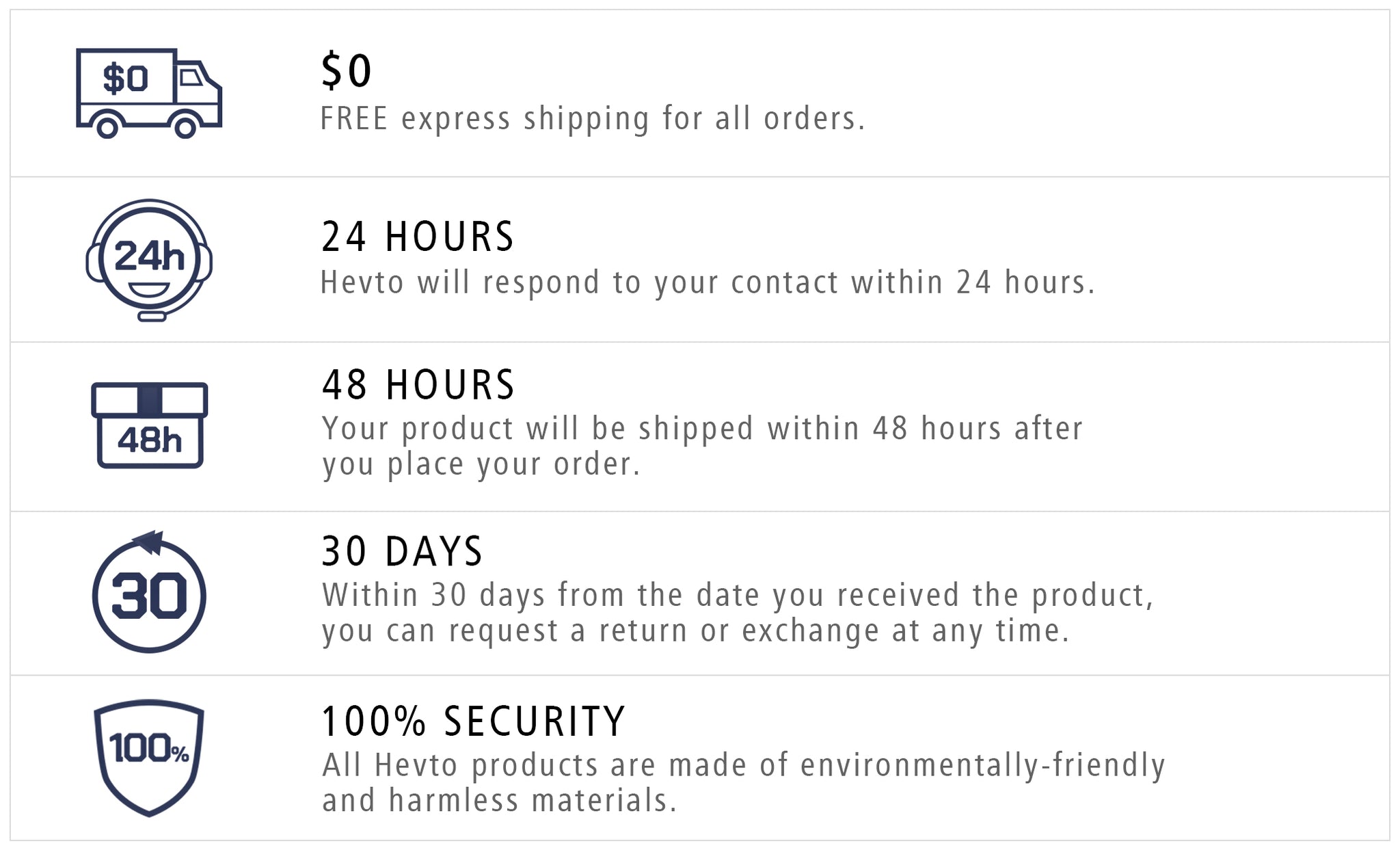 SHIPPING & DELIVERY 
   ✦ All Hevto products are shipped and delivered by the following logistics companies: UPS, USPS, Amazon Logistic. 
   ✦ Your product will be shipped within 48 hours after you place your order. We will dispatch the product from the warehouse nearest to the shipping address of the order. You can track the progress of the logistics on the order page at any time. Under normal conditions, you will receive the wetsuit in 3~7 days. If the logistics are delayed due to a particular situation, please contact Hevto customer service staff for support.
   ✦ Hevto will be fully responsible for any loss or damage to products in transit. In case of such loss or damage, please feel free to contact Hevto customer service support.  
   ✦ Customs Import Duties and Taxes: Orders shipped may be subject to customs import duties and/or taxes based on the destination country. If assessed, customs fees are the responsibility of the customer. Unfortunately, we have no control over these charges and will not be able to advise on what the cost would be, as customs policies and import duties vary widely from country to country. 

RETURN 
   ✦ Within 30 days from the date you received the wetsuit, you can request a return at any time. If you need to return the wetsuit, please confirm the product package and tags are in good condition firstly, then contact Hevto customer service staff to get a return label. We will provide detailed guidance for the return procedure. 
   ✦ You needn't pay the express fee of return. 

EXCHANGE 
   ✦ We support the exchange service. If you need to exchange the wetsuit, please confirm the product package and tags are in good condition firstly, then contact Hevto customer service staff to get a return label. We will provide detailed guidance for the exchange procedure. 
1、How to clean my wetsuit?
① Immediately rinse your wetsuit in fresh, cold water after each use.
② Do not use hot water or saltwater to wash your wetsuit. Especially in hot water, neoprene will lose elasticity. Besides, leaving sand, salt, or chlorine on the wetsuit can also shorten the life of it.
③ Please use the specialty wetsuit cleaner provided by diving and surfing shops to remove odors, sweat, oil, and algae.
④ You can clean your wetsuit in the bathtub. Fill the bathtub with cold water, then add the specialty wetsuit cleaner and soak the wetsuit for 20 minutes.  After that, clean it by hand, especially in areas that are particularly prone to sweating, such as the armpits. Finally, flush the wetsuit inside out with cold water to remove all wetsuit cleaner residue.
2、How to dry my wetsuit? 
① After washing the wetsuit, make sure it is naturally dried so as not to damage the neoprene of the wetsuit.
② The interior of the wetsuit should be dried to avoid odors or mildew. Besides, dry the interior also helps extend the service life of the wetsuit.
③ Please use a hanger designed for a wetsuit or a heavy, padded hanger to hang the wetsuit and dry it indoors. 
④ If you have to hang the wetsuit outside, make sure it is kept in a cool and well-ventilated area away from direct sunlight, because the sunlight will damage the performance of the fabric.
3、How to store my wetsuit? How to fold it? 
① Check if your wetsuit has any cracks or breakages before storing it. If yes, take it to a wetsuit shop in time for repairs.
② Try to lay it flat or hang it up to store. Do not fold it. Folding for a long time will generate unrecoverable wrinkles on the neoprene.
★ "DO NOT" for Wetsuit Care: 
① Do not clean the wetsuit with hot water.
② Do not use a washing machine, dryer, iron.
③ Do not use bleach or any harsh cleaner.
④ Do not dry your wetsuit in the sunlight.
⑤ Do not leave it in the car boot for a long time.